Although tiny in size, chia seeds are a powerhouse functional food loaded with protein, healthy fats, dietary fiber, minerals vitamins, and antioxidants.  They are also valued for their energy-enhancing properties and high concentration of plant-based omega-3 fat in the form of alpha-linolenic acid (ALA).  Of course, the animal-based omega-3's are equally important and found in seafood and krill oil.  Flax seeds have similar health benefits, however chia seeds don't have to be ground prior to consumption nor do they go rancid quickly (chia seeds can last up to two years with no refrigeration largely due to their high levels of antioxidants).
Chia seeds have been linked to a number of health benefits, including:
Lowering triglycerides and supporting healthy cholesterol levels
Lowering blood pressure and heart disease
Anti-inflammatory activity
Liver-protective properties
Anti-diabetic action
Protect against arthritis, autoimmune disease and cancer
Chia seeds even work well as an exfoliant and buffing agent to add to your beauty care regimen
Try this delicious chia pudding recipe modified from Vegan.com.  When chia seeds are soaked in water overnight, they take on a tapioca-like texture.  For a bit of crunchy satisfaction, sprinkle sliced almonds and unsweetened coconut chips on the top.
Chia Pudding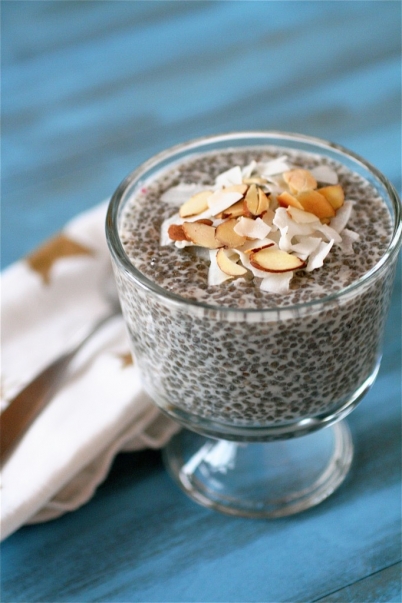 Ingredients:
1/3 cup chia seeds
1 cup coconut milk
2 Tbsp. honey
½ tsp. vanilla extract
¼ tsp. Himalayan or sea salt
 Instructions:
Measure out chia seeds, coconut milk, extracts, and honey. Mix well and refrigerate for at least 30 minutes or even overnight so the chia seeds absorb the moisture and become thick and gelatinous, like a pudding.
Spoon into a glass or parfait cup.
Add your favorite toppings and enjoy.
Sources:
http://articles.mercola.com/sites/articles/archive/2015/07/06/chia-seeds-benefits.aspx
http://www.vegan.com/videos/chia-pudding/
Photo source:
http://authoritynutrition.com/11-proven-health-benefits-of-chia-seeds/http://www.thecurvycarrot.com/2013/01/22/coconut-almond-chia-seed-pudding/