In the United States alone, approximately 190 million Valentine's Day cards are sent each year.  The average valentine's spending has increased from $108 a person in 2010 to $131 in 2013.  Valentine's Day has been associated with romantic love since the Middle Ages.  In the 18th century, it became an occasion to express one's love by giving flowers, sweets, and greeting cards (known as "valentines").  Symbols of Valentine's Day include heart-shaped outline, doves, and the figure of the winged Cupid.
In celebration of this romantic day, here is a delicious vegan chocolate truffle recipe.  Raw, organic cacao powder is loaded with magnesium, sulphur, and antioxidants...so enjoy!
Raw Almond Chocolate Truffles with Goji Berries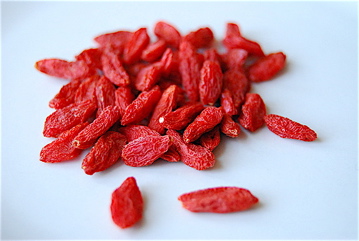 Ingredients for truffles:
2 tbsp raw almond butter (or nut butter of your choice)
2 tbsp raw and organic cacao powder
½ tbsp ground almonds or almond flour
1 tbsp agave nectar or raw honey
¼ cup chopped goji berries for topping
Directions:
Combine ingredients well in a mixing bowl (it's best to use your hands).  Roll dough mixture into balls (the size of a heaping tablespoon each – makes approximately 8-9 truffles).  Place formed balls onto a parchment paper-lined plate.  Chop goji berries for topping and set aside.
Ingredients for chocolate coating:
½ cup vegan chocolate chips
Directions:
Put chocolate chips in a glass or metal bowl and melt over a pot of boiling water.  Once melted, drop the almond balls into chocolate and coat well.  Remove and place gently onto parchment paper with a fork.  Sprinkle each truffle with chopped goji berries.  Place in refrigerator for at least 2 hours until firm.
Photos:
http://mobile.atmgreetings.com/valentine/
http://www.rgbstock.com/bigphoto/miTS4tu/JL_CHO
http://www.gojiberries.us/bulkdriedgojiberries.aspx